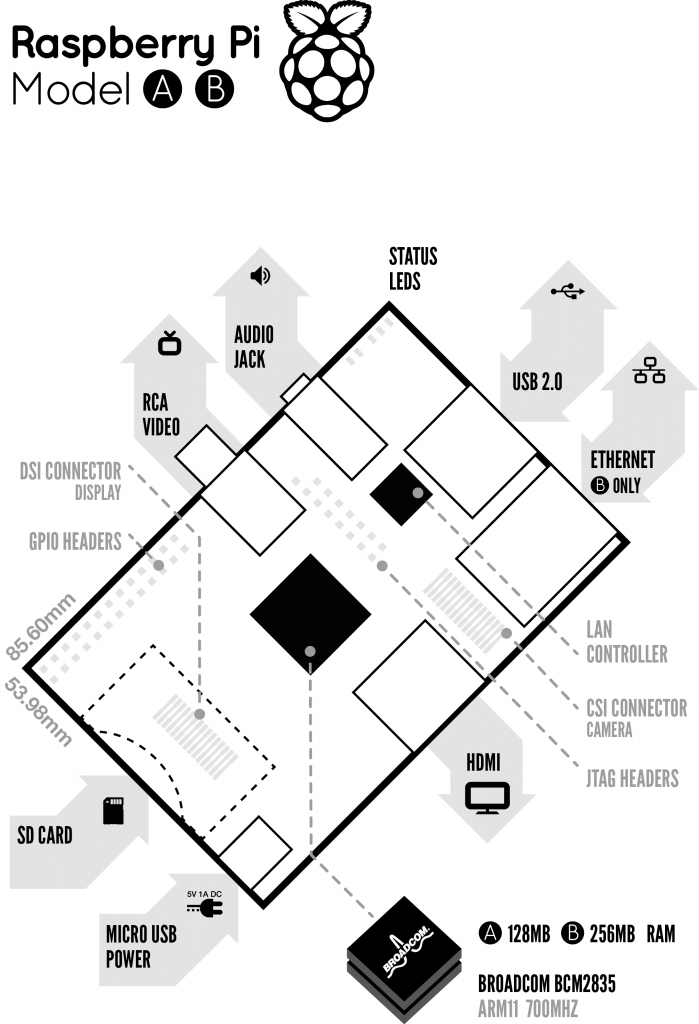 If you have been watching the tech world, then you might have heard of the Raspberry Pi. What exactly is it ? Basically it is a very cheap computer and at $35 is in "sub 100 PC" category. I have done some research on the Raspberry Pi, which is summarized in this article.
The Raspberry Pi started out from concern regarding the decreasing level of interest in Computer Science program at Cambridge University in the UK. The high price of computers today, makes parents unwilling to let their kids experiment with computers. Eben then worked on building prototypes of a cheap computer in his spare time.
What's a Raspberry Pi?

The Raspberry Pi is a credit-card sized computer that plugs into your TV and a keyboard. It's a capable little PC which can be used for many of the things your desktop PC does, like spreadsheets, word-processing and games. It also plays high-definition video. We want to see it being used by kids all over the world to learn programming.
There are two models of Raspberry Pi, Model A will sell for $25 while Model B for $35. Both model will weigh 45g, with dimensions of 85.60mm x 53.98mm x 17mm, with a little overlap for the SD card and connectors which project over the edges.
A USB Port is available on board to handle external connection. Composite and HDMI Port are available to connect to external display. A standard 3.5mm jack is available for external audio.
The Raspberry Pi is powered by 5v micro USB, and it can run from 4xAA batteries as the main power. Model B will be powered by ARM 11 700MHz processor with 256MB RAM.
On the software side, it will support Linux distros, mainly Debian, Fedora and ArchLinux installed on SD Cards.
Full Specifications Detail:
Raspberry Pi have started the manufacturing process on January 8th, 2012. For now, only 10.000 Model B are manufactured. Model A will come soon.
How powerful is the Raspberry Pi ? Well, it can handle Blu-Ray graphics and it runs Quake III very well.
If Raspberry Pi is successful, it will achieve what the OLPC with their XO laptop have tried to do before. Trying to build a computer for $100 or less. Also known as sub 100 PC market. The market is mainly for children in developing countries who have no other means of gaining access to a computer. So far the the XO laptop have failed to get below the $100 mark.
Raspberry Pi is being organized by The Raspberry Pi Foundation, a UK based organization. Manufacturing is being done in Taiwan and China, despite effort to manufacture in the UK. Import tax is cited to be the biggest reason for the move.
While this is not a must have gadget, it will surely helps our future generation to become creators, not only users.
Further reading: